We, the faculty, staff and admin-istration, would like to nominate Stacey York and Mayitza Fredrick as Scottsdale Sensations. They have single hand-edly made the new Foreign Language Immersion Programis program something that our teachers, parents and entire District is proud of!

They have never ceased being truly passionate professionals! We are so lucky to have them!

Nominated by
~ Pueblo Elementary School

Please use the e-mail link below to send us your comments and suggestions about information you find here.

communications@susd.org

Benefits Open Enrollment April 14 – May 2

2/05/2008
All benefited employees are required to complete elections online using iVisions even if not making any changes to current elections. Additional information will be provided as the dates for open enrollment near.
---
Let's Increase Enrollment! Spread the Word About Our Exceptional Schools!

1/9/2008
Tell your friends and neighbors! Pre-Kindergarten and Kindergarten Round-ups are a great way to learn about our wonderful Elementary Schools! Schools throughout the District will be hosting tours and open houses in preparation for enrolling children in Kindergarten for the 2008-2009 school year. Parents can meet teachers and principals and learn about the great programs offered by schools in the Scottsdale Unified School District.
For dates, times and locations of Pre-Kindergarten Round-ups, Kindergarten Round-ups, Middle School Road Shows and Comprehensive Gifted Tours, please view the
March 5 th issue of The District Dispatch
.
---
Save the Date for PASS!

2/6/2008
Mark your calendar for June 9-13 from 8 a.m. to 4 p.m. for Partners Advancing Student Success (PASS). This professional learning opportunity allows K-12 teachers and administrators to visit local businesses to learn how to make curriculum come alive. Upon successful completion, teachers are eligible for 35 professional development hours and a $100 stipend. For more information, please view the
flyer
and the
registration form
.
If you have questions, please contact
Andi Fourlis
or
Mitch Simmons
.
---
Two Fitness Program for Employees
09/26/2007
We all know the importance of regular exercise and eating healthy. But did you know wellness and fitness lead to less stress & fewer missed work days?
That is why Scottsdale Unified School District has teamed up with 24 Hour Fitness and Pure Fitness on fitness programs for SUSD employees. You may enroll at either club for just $19 a month with no contract. For more info about 24 Hour Fitness, please
view the flyer
and the
locations
.
For more information about Pure Fitness, please
view the flyer
.
---
Share Your Office Supplies
09/12/2007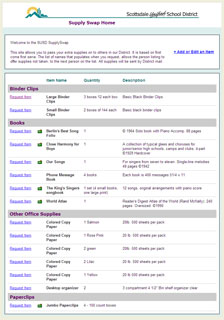 Have you ever ordered a case of something, when you meant to order just a box? Have you ever had to order something in a large quantity, even though you only needed a few (or one)? Do you have a drawer or cabinet full of supplies that are just not getting used? There might be someone somewhere else in the District that could use your unwanted office supplies.
The SUSD Supply Swap is a new HomeRoom Web site for employee use. You can sign up to receive e-mail notices when items are added to the SUSD Supply Swap!
This site allows you to pass your extra supplies on to others in our District.
Once on the site, you can browse the posted items and request an item be sent to you, or you can add an item that you would like to give away.
The system is based on first come first served. Supplies will be routed via District mail.